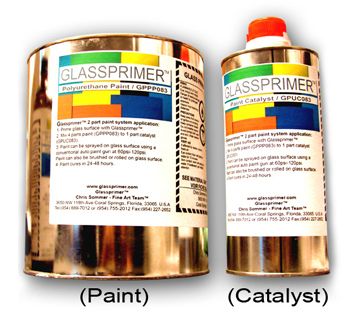 Visit Glassprimer™ Glass Paint Official site
Reverse glass paint is the application of paint on the back side of glass surfaces. This method of application ensures a high gloss, extremely durable, hygienic surface that can be used instead of tiles, laminates, stone and other substrates. Colored glass backsplashes, colored glass table tops and more are being created by reverse painting glass.
Regular paint can not be used to reverse glass paint a glass surface due to inherit paint delamination issues. Glassprimer™ self priming glass paint is specially formulated to bond permanently to glass surfaces unlike any other paint on the market. To reade all about how this easy to use paint works, please visit
www.glasspaint.com
.
Glassprimer™ is featured on
HGTV
"Color Splash" TV series with David Bromstad.
Reverse glass painting can have artistic effects such as multiple colors, faux finishes, metallics, pearls, and even murals. Glass painting is easy to do with Glassprimer™ glass paint, this paint can be applied to all glass surfaces with a conventional paint roller or any form of paint spray equipment. No heating is necessary for curing and paint cures in 24-48 hours. Glass can be cut, edged, sanded, drilled and laminated once paint has cured with no de lamination / chipping issues.
An infinate color range is available with Glassprimer™ glass paint. It can be matched to over 500 large paint manufacture color lines including the entire Benjamin Moore and Sherwin Williams color lines. Customer supplied color samples can also be easily accurately matched.
Glassprimer™ glass paint color matching is free of charge and ships the same day you order it.
To order
Visit Glassprimer™ Glass Paint Official site
Same day shipping to all 50 states and Canada
(AL) Alabama
(AK) Alaska
(AZ) Arizona
(AR) Arkansas
(CA) California
(CO) Colorado
(CT) Connecticut
(DE) Delaware
(DC) District of Columbia
(FL) Florida
(GA) Georgia
(HI) Hawaii

(ID) Idaho
(IL) Illinois
(IN) Indiana
(IA) Iowa
(KS) Kansas
(KY) Kentucky
(LA) Lousiana
(ME) Maine
(MD) Maryland
(MA) Massachusetts
(MI) Michigan
(MN) Minnesota
(MS) Mississippi

(MO) Missouri
(MT) Montana
(NE) Nebraska
(NV) Nevada
(NH) New Hampshire
(NJ) New Jersey
(NM) New Mexico
(NY) New York
(NC) North Carolina
(ND) North Dakota
(OH) Ohio
(OK) Oklahoma
(OR) Oregon
(PA) Pennsylvania
(RI) Rhode Island
(SC) South Carolina
(SD) South Dakota
(TN) Tennessee
(TX) Texas
(UT) Utah
(VT) Vermont
(VA) Virginia
(WA) Washington
(WV) West Virginia
(WI) Wisconsin
(WY) Wyoming
Visit Glassprimer™ Glass Paint Official site
Toll Free: 888.619.2226
Jacksonville, Florida: 904.437.4861
Brooklyn, New York: 718.374.5229
Fax: 888.619.2226
sales@glassprimer.com